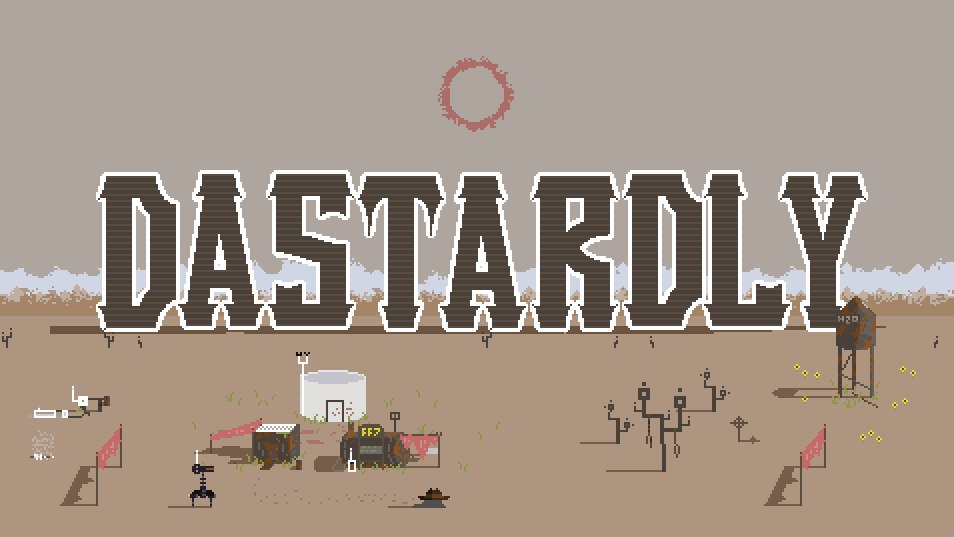 DASTARDLY
A downloadable game for Windows
SHOOT YOUR FRIENDS
In the filthy backwaters of the Milky Way, gunslingers duel for fortune and fame.

Every one of them is daring, dangerous, and...
DASTARDLY
Dastardly is a fast-paced and chaotic local multiplayer arena combat game for 1 to 4 players. Travel across the Milky Way to face down other bandits. Jump, dash, and shoot your way to victory, making use of an array of powerups like shields, cloaks, and jetpacks. Inspired by classic couch multiplayer games like Super Smash Bros. and more recent hits like Towerfall: Ascension and Samurai Gunn, Dastardly has a focus on tight controls and fast matches. Load it up and shoot your friends from the comfort of your own home.
FEATURES
Local multiplayer for 2-4 players

Control over length and powerups for a variety of game modes


1-player time trial mode
8 levels on 2 different planets (more coming soon)
Powerups:

Shield
Boots
Cloak
Jetpack

Missile Launcher
Dastardly © 2022 Mors Immortalis Games and Sam Walker
mors-immortalis.itch.io / mors-immortalis.ca

CREDITS
Used with permission:
Characters and tilesets by penusbmic.itch.io
Gamepad UI by greatdocbrown.itch.io
Confetti shader © Eliott Veyrier

Desert tileset by wrlck.itch.io
Planets by deep-fold.itch.io
Fonts by managore.itch.io
Hats by gisha.itch.io
Music by SawSquareNoise / Rolemusic (CC BY 3.0) and OkamiDeluxe
DISCLAIMER
Listen here, pardner. I'm new around these here parts. As a humble part-time cowpoke hired on for the summer, I am ready and willin' to listen to your pointers. I know you ain't a greenhorn and can learn me real good. But I'm taking a starship off this dustbowl once the season changes. So don't get too attached, now, alrighty?
Translation: I don't have much game dev experience. Please leave a comment below or submit your feedback here, as I am eager to hear it and improve. But Dastardly is sold as-is. I definitely can't guarantee technical support or ongoing development for this game. It's strictly a part-time hobby.
NOTES
Steam keys available
A gamepad is strongly recommended. Tested with Steam and Stadia gamepads. Any controller recognized by Godot/SDL_GameControllerDB should work, but please comment below or submit a bug if you have any problems.
For those who have to play with a keyboard, here are the controls:

Arrow keys / WASD = Move and Aim
Space = Jump
Hold Shift = Draw
Release Shift = Shoot
Ctrl = Dash
Enter = Confirm

Gamepad controls:

Left stick or D-Pad = Move and Aim
A = Jump
LB/RB = Dash or Holster (cancel aim)
Hold B = Draw
Release B = Shoot
Start = Confirm

Advanced twin-stick controls:

Left stick = Move
LT = Jump
Hold RT = Draw
Release RT = Shoot
LB/RB = Dash
Start = Confirm
Purchase
In order to download this game you must purchase it at or above the minimum price of $4.99 USD. Your purchase comes with a Steam key. You will get access to the following files: